Embark on Inspiration: Join 'The 28 Credentials of Entrepreneur' Project
Dear Esteemed Individual,
I extend to you a heartfelt invitation to join us in becoming an integral part of "The 28 Credentials of Entrepreneur." It is my pleasure to present an opportunity for you to be featured in this distinctive endeavor.
Within the pages of this book, we curate a collection of 28 uniquely crafted "QUOTES" spanning various facets of life. Our compilation includes voices from a diverse array of backgrounds: entrepreneurs, bureaucrats, ambassadors, scholars, professionals, and political figures. This diverse array creates a tapestry that is concise, impactful, and leaves a lasting impression, respecting the value of our readers' time.
I would be honored to include your invaluable insights in this literary endeavor. Through your contribution, we aspire to ignite the flames of inspiration that will guide and empower countless young individuals striving to carve their paths in the business world, transcending geographical boundaries.
More than just a source of motivation, this book is designed to serve as a platform. A platform for the foremost entrepreneurs of our world, where the essence of Harnessing potential, Connecting networks, and Establishing pillars of success resonates deeply.
Your involvement will not only enrich our project but also contribute to the nurturing of the entrepreneurial spirit across the global landscape. Your words will become a guiding light for those navigating the challenging terrain of business, a beacon of wisdom to illuminate their paths toward success.
I eagerly await your affirmative response to this invitation, and I look forward to embarking on this journey of inspiration, knowledge-sharing, and collective growth with you.
With heartfelt regards,
Dr. Bilal Ahmad Bhat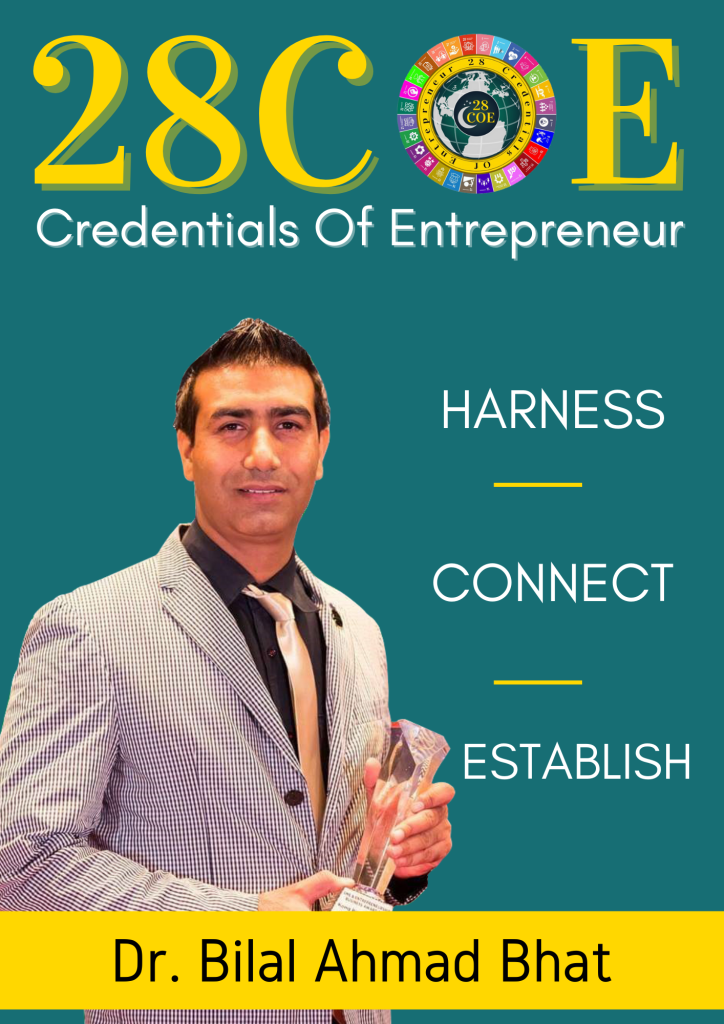 Crafting Excellence: Dr. Bilal Ahmad Bhat's Extraordinary Odyssey
From entrepreneur to philanthropist and business mentor, Dr. Bilal Ahmad Bhat's narrative resonates as an exceptional saga that has left an indelible mark on the business landscape.
A luminary in entrepreneurship, philanthropy, and coaching, Dr. Bilal Ahmad Bhat's journey embarked over two decades ago when he migrated to Malaysia. His remarkable endeavors have guided innumerable individuals to build enterprises from the ground up.
Bilal Ahmad Bhat's entrepreneurial roots stretch back to his early years, sprouting from the soils of Wuyan, Jammu, and Kashmir, India. At a tender age of 11, he sowed the seeds of his first business venture, igniting a lifelong ardor for business.
The shores of Malaysia welcomed Dr. Bilal's aspirations. Here, he established triumphant enterprises such as Kong Posh Industries and Neocs, brands that have achieved recognition not only within Malaysia but far beyond its borders.
Beyond business, Dr. Bilal is a beacon of altruism. His conviction in giving back to society has blossomed into a multitude of social welfare projects, touching lives and cultivating positive change in communities.
A multifaceted luminary, Dr. Bilal Ahmad Bhat wears the mantle of a distinguished business coach and mentor. Through his guidance, countless aspiring entrepreneurs have transgressed their limitations and realized their aspirations. His expertise has earned him the mantle of sought-after speaker and trainer across various nations.
Literary accomplishments also grace his path. Author of influential works like "28COE Core Values" and "28COE Quotes book," he dispenses invaluable insights to entrepreneurs in search of direction and growth.
Amidst challenges, Dr. Bilal's resilience has carved a path to extraordinary success. His contributions have not gone unnoticed, adorning him with awards and accolades that salute his impact on the business world.
In summation, Dr. Bilal Ahmad Bhat epitomizes inspiration as an entrepreneur, philanthropist, and mentor. His tale underscores the potential of entrepreneurship, underscoring the significance of giving back. His unwavering dedication, commitment to social welfare, and eagerness to share wisdom coalesce to cast him as an exemplar and leader.
As he eloquently reminds us, "The true measure of success lies in how much you empower and uplift those around you." 
In the Spotlight: Bilal Takes Center Stage
Radiant Moments: Bilal's Noteworthy Appearances and Achievements"
CAPITAL TV: Bilal's Insights on Display
Coffee Table Book PASSION & COMMITMENT Gratitude: Capturing Bilal's Dedication
SME & ENTREPRENEURSHIP BUSINESS AWARD 2017: Celebrating Bilal's Excellence
International Business Review: SME (Vol.1 & 3) (2 times): Bilal's Influence on the Global Stage
Nanyang Siang Pau -China Press: Bilal's Presence Echoes in China Press
PASSION (Magazine): in Vol. 48, 49, 50, 51, 52, 53 (6 times): Bilal's Journey Illuminated in PASSION Magazine
BRITISHPEDIA (SUCCESSFUL PEOPLE IN MALAYSIA) Vol-1 (2019): Bilal's Recognition in Britishpedia
MALAYSIA SME (Issue 204): Bilal's Endeavors Featured in Malaysia SME
News Hour: Bilal's Impact on the Airwaves
TV Africa: Bilal's Insightful Presence on TV Screens
PrittlePrattlenNews: Bilal's Noteworthy Recognition in PrittlePrattlen
Spaceprahari – Hindi New Pager: Bilal's Triumphs Echo in Spaceprahari
International Institute of Influencers: Bilal's Influence Acknowledged on a Global Scale
Greater Kashmir- Newspaper: In the Pages of Prestige- Bilal's Appearance in Greater Kashmir Newspaper
TheMONdaily-Making Life Simple: Embracing the Essence